Today we have a special post from a special friend of mine ~
Anna, from the blog,
Thimbleanna
. I've been following Anna's blog for a long time now and I am so happy she agreed to share a little bit of her creative space with us. She's got some great organizational tips and I know many of you will be able to relate to Anna's room ~ so check it out!
♥ ♥ ♥
Hi Everyone!
I'm Anna from the blog,
Thimbleanna
and I'm very excited to be posting here on Amber's blog for Tuesday's Tips. I had the honor of meeting Amber at quilt market in Salt Lake City last spring -- and she's just as sweet and talented as you'd imagine from her blog (which I stalk, btw!). I really had to laugh though, when Amber asked me to post for Tuesday's Tips. My sewing room is anything but glamorous, but then I thought that my ugly might be beneficial?!?
Tip #1: Work With What You Have!
There are so many beautiful, inspirational sewing rooms on the internet and it's easy to become discouraged if your room isn't drool-worthy. I love seeing those gorgeous rooms and I often get some great ideas from them, but that's not my reality. My sewing room is in the basement of our home and my sewing companions are the furnace and water heater. I've often debated about turning one of my now-grown-boys' rooms into my sewing room -- it would be much prettier and I could have a window, but I wouldn't have enough room to store all of my supplies. So, I'm working with what I have and staying in the basement. I lovingly refer to it as the dungeon and I try to put a positive spin on it. My fabrics and threads won't be damaged by sunlight, right? The reality is, I don't need a beautiful room to create pretty things. I just need some supplies, my sewing machine, a few notions, and a little organization to be able to find things. When we moved into our home, the mechanicals were all on one side of an unfinished storage room, so I blocked them off with a few old hutches so that I can't see the ugly stuff. That left me with three walls -- two walls were unfinished but lined with shelving (perfect!) and a third wall was unfinished studs. The first thing we did was put pegboard up on the stud wall. I love this wall for holding notions. Someday, when I have time to frou-frou-up my sewing room, I'll put some cute stuff on this wall.
The two walls with shelving hold all of my supplies. Over the years I've picked up plastic storage bins on sale (this is the perfect time of year to buy them!). This group of bins hold my fabric scraps. (See those unfinished walls back there -- I hardly even notice them anymore.)
Below the bins are some of my fabrics.
Tip #2: Fold Your Fabrics Nice and Tidy!
When I first started blogging I stumbled upon
Monica's fabric folding technique
. It took me 3 days to fold all of my fabrics, but it changed my life!;-) Since my shelves are all open it's really nice to have neat fabric stacks instead of the unsightly mess that I used to have.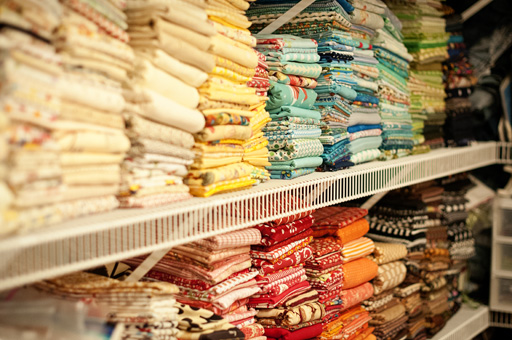 I'd love to have some of those really
cool ribbon shelves
but I don't have anywhere to hang or set them. So, I improvised. I took a dowel rod and suspended it from one of my shelves with some wires. It works great to hold a lot of my ribbon spools.
I do have one really cool Pottery Barn organizer that my sister gave me a few years ago for Christmas. I helps cover up some of the unfinished walls -- you can see how the ribbon looks hanging above it.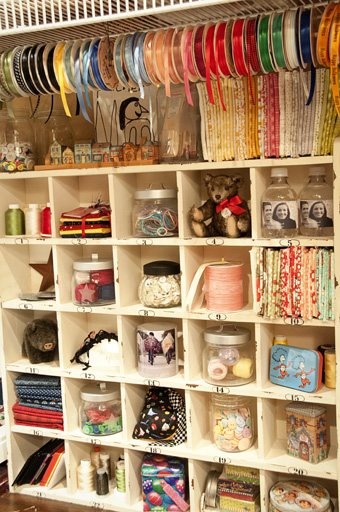 Now, one last tip -- my favorite.
Tip #3: Add a Little Whimsy to Your Sewing Room!
It will make you happy. Here's my favorite embellishment to my unfinished room -- Shandi the Chandelier.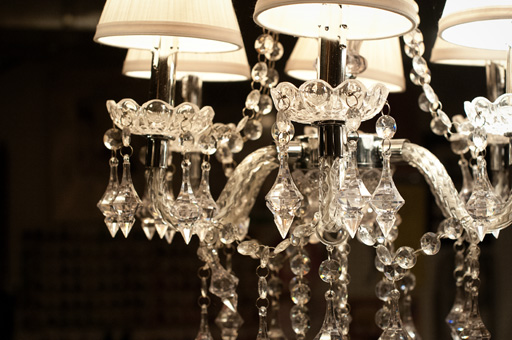 A few weeks ago I had a few of my work friends over and they begged to see my sewing room. I was very hesitant to let them see it -- I know all of you crafty types would understand, but none of them are obsessed like we are and I worried that they might think I need psychological help when they saw all of my fabric and doodads. I finally gave in -- I'm not sure what they were thinking, but I do know that when they saw Shandi hanging from the floor-joist-ceiling, they all laughed and ooohed and aaahed. It was a fun moment for Shandi and me!
So, that's it! Thank You So Much Amber for letting me share a little of your space here today! XOXO, Anna
♥ ♥ ♥
Some great ideas Anna! I definitely want to check out that link to Monica's fabric folding technique and I love how you've displayed all the loveliness that allows you to create the beautiful things that you do.
Please leave Anna some comment love below. She's so sweet to have shared her creative space and some great tips with us today.